EFPL
@

Columbia University
Our group focuses on both fundamental and applied problems related to fluid dynamics and turbulence, with an emphasis on environmental flows. We focus on challenges related to atmospheric boundary layer flow phenomena and wind engineering, using supercomputers and analytical methods.
Current research areas include turbulence and turbulent transport in urban and plant canopies, flow in complex terrain, hurricane boundary layer turbulence, uncertainty quantification and artificial intelligence techniques for turbulence modeling.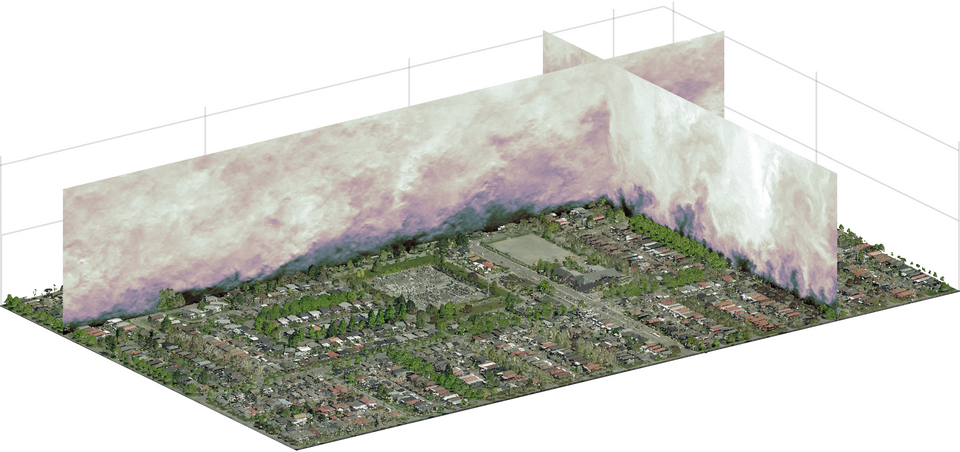 Highlights
PhD students Atharva Sathe and Beatrice Giacomini recognized with TA Excellence Awards for their outstanding contribution as Teaching Assistants in the Fluid Mechanics class. Congratulations!

May 4, 2022

New project: Snow Transport in Katabatic Winds and Implications for the Antarctic Surface Mass Balance: Observations, Theory, and Numerical Modeling. More details in our Research page.

Aug 24, 2021
More News
Our group secured a Defense University Research Instrumentation Program (DURIP) award for the acquisition of an aerial light detection and ranging system. Click here for more details.

Dec 10, 2021

Our group was awarded $100,000 in AWS Cloud Credits for the development of physics-inform machine learning models for atmospheric turbulence. Thank you, Amazon! Click here for more information.

Oct 15, 2021

Welcome to Kianoosh Yousefi, who joins our group as Associate Research Scientist!

Aug 1, 2021

New project: Towards a Mechanistic Epidemiological Model via Computational Fluid Dynamics and Individual-Based Modeling. More details in our Research page.

Jun 22, 2021

Our group was awarded 150,000 Node Hours on the Stampede2 supercomputer via XSEDE to study turbulent flow phenomena in the environment.

Jun 14, 2021

New paper in GMD highlighting limitations of an important class of second-order accurate finite volume models in predicting atmospheric boundary layer flow. Congratulations Beatrice!

Mar 16, 2021
The Environmental Flow Physics Lab contributes its expertise in turbulence, computational fluid dynamics, and urban flow dynamics to help industry partners tackle challenging engineering problems. We partner with Amazon to improve flight dynamics of package delivery drones as part of the Amazon Prime Air project. We are also starting a new collaboration with the engineering and technology company Thornton Tomasetti.
Dr. Marco G. Giometto
Seeley W. Mudd Building, Room 638
500 W. 120th Steet, New York, NY 10027
Tel (212) 853-1799
Department of Civil Engineering & Engineering Mechanics
Seeley W. Mudd Building, Room 610
500 W. 120th Steet, New York, NY 10027
Tel (212) 854-2993