EFPL
@

Columbia University
Our group focuses on both fundamental and applied problems related to fluid dynamics and turbulence, with an emphasis on environmental flows. We focus on challenges related to atmospheric boundary layer flow phenomena and wind engineering, using supercomputers and analytical methods.
Current research areas include turbulence and turbulent transport in urban and plant canopies, flow in complex terrain, hurricane boundary layer turbulence, uncertainty quantification and artificial intelligence techniques for turbulence modeling.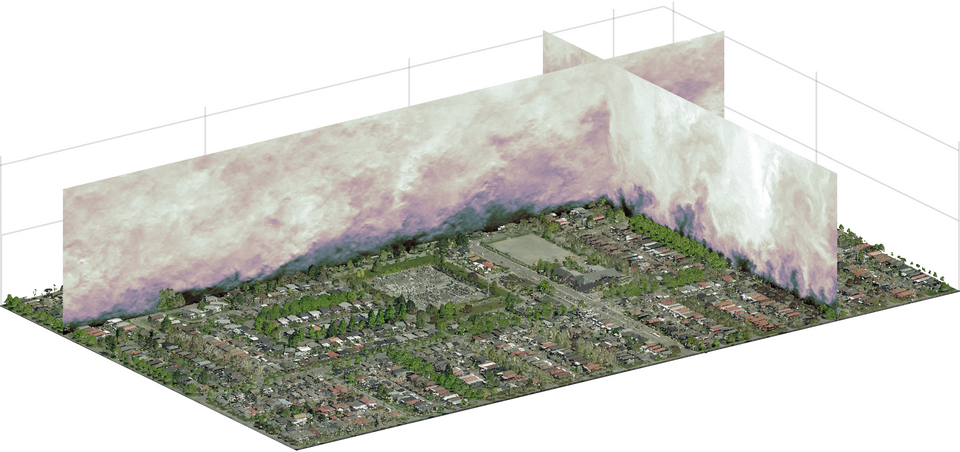 Highlights
Weiyi and Beatrice have successfully defended their Ph.D. theses, and Gurpreet, Atharva, and Pawan have been recognized with TA Excellence Awards. Congratulations to everyone!

May 4, 2023

Early Career Program Award from the Army Research Office: Quantifying the Impact of Surface Uncertainties on the Aerodynamic Properties of Built Environments. Click here for more details.

Oct 10, 2022

New paper in BLM proposing a framework to quantify uncertainty in flow over and within plant canopies. Congratulations Beatrice! doi:10.1007/s10546-022-00718-5

Jul 29, 2022
More News
We are excited to announce that our group will be hosting a two-day workshop on decentralized science on August 17-18, 2023 at Columbia University. To learn more about this workshop, please click here.

May 30, 2023

PHD student Gurpreet Hora recognized with a Lead Teaching Fellowship for his exceptional dedication to advancing instructional practices and fostering mentorship in teaching. Congratulations Gurpreet!

Apr 28, 2023

New project to support aerial drone operations: The Prime Air Hyperlocal Wind Model. Thank you, Amazon!

Jan 9, 2023

PhD student Weiyi Li recognized with the prestigious Boris Bakhmeteff award for his contributions to fluid dynamics research. Congratulations Weiyi!

Aug 10, 2022

New project: Characterization of Hurricane Boundary Layer Turbulence for Wind Hazard Mitigation. This effort contributes to the Disaster Resilience Research Grant (DRRG) program, which is jointly funded by NSF and NIST. Click here for more details.

June 4, 2022
The Environmental Flow Physics Lab contributes its expertise in turbulence, computational fluid dynamics, and urban flow dynamics to help industry partners tackle challenging engineering problems. We partner with Amazon to improve flight dynamics of package delivery drones as part of the Amazon Prime Air project. We are also starting a new collaboration with the engineering and technology company Thornton Tomasetti.
Dr. Marco G. Giometto
Seeley W. Mudd Building, Room 638
500 W. 120th Steet, New York, NY 10027
Tel (212) 853-1799
Department of Civil Engineering & Engineering Mechanics
Seeley W. Mudd Building, Room 610
500 W. 120th Steet, New York, NY 10027
Tel (212) 854-2993